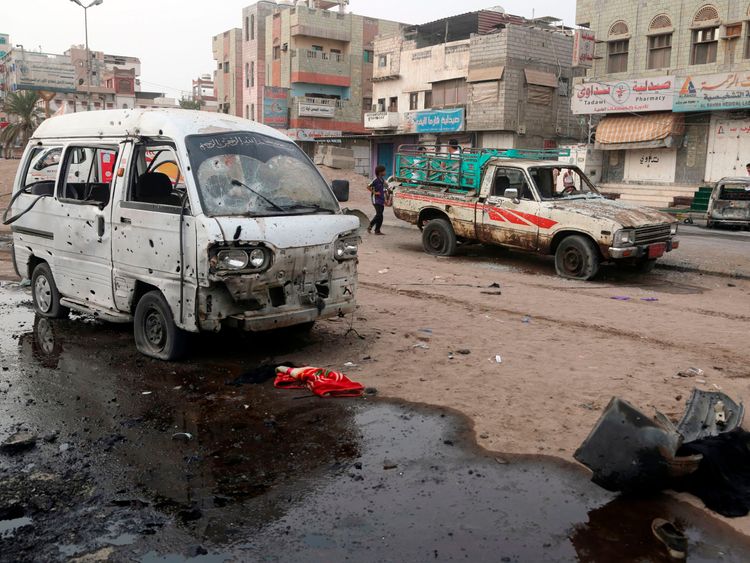 Images broadcast by Houthi media showed scores of bloody children, some still wearing their backpacks as they were loaded onto stretchers. Turki al-Malki said the attack was "a legitimate military action, conducted in conformity with global humanitarian law". This action is in conformity with the humanitarian law, Saudi Press Agency (SPA) quoted Col.
"The Coalition is targeting the militants responsible for planning and targeting civilians which resulted in killing of one and injuring 11 in Jazan", it said.
State Department spokeswoman Heather Nauert said the U.S. was "concerned" by reports of an attack resulting in civilian deaths.
In another video, which appears to show the immediate aftermath of the strike, several children's bodies lie under a blown-up bus.
UN Secretary-General Antonio Guterres urged an "independent and prompt" probe, while State Department spokeswoman Heather Nauert said the USA is "calling the Saudi led coalition to conduct a thorough and transparent investigation into the incident".
"Putting children in harm's way is horrific and deplorable and making them pay such a price is unacceptable", said Hodeib.
A spokesman for the Saudi-led coalition, which is fighting Houthi rebels in Yemen, said it was targeting rebel missile launchers.
The hospital also received 48 wounded people, among them 30 children.
More news: Britons split over Boris Johnson's burka comments
More news: The first astronauts have been selected for a ride on commercial rockets
More news: Baby's body pulled from water near Brooklyn Bridge
It accused the Houthis of using children as human shields and said the strikes were carried out in accordance with global humanitarian law.
Saudi Arabia and Arab allies have been fighting in Yemen for more than three years against the Iran-backed Houthis, who control much of northern Yemen including the capital Sanaa and drove a Saudi-backed government into exile in 2014. "Our noncombat support focuses on improving coalition processes and procedures, especially regarding compliance with the law of armed conflict and best practices for reducing the risk of civilian casualties", the statement said. The coalition denied that it had carried out air strikes in the area, and blamed the deaths on rebel mortar fire.
The coalition said the projectile, fired toward the southwestern Saudi city of Jizan, was intercepted and destroyed.
Global rights groups repeated calls for an end to the war and strongly condemned the bus attack and other civilian massacres.
"This latest air strike, only a week after the attacks on Hodeida city, demonstrates a continued disregard for human life and suffering", said Johan Mooij, the agency's country director in Yemen.
"It's hard to believe we live in a world where children should live in fear of such attacks, yet here we are", she added.
The war in Yemen has left more than 10,000 dead since 2015, sparking what the United Nations says is the world's worst humanitarian crisis. "Only a political solution can bring the war to an end and reinstate peace in Yemen".
UN-brokered negotiations on Yemen broke down in 2016 amid demands for a rebel withdrawal from key cities and power-sharing with the Saudi-backed government.