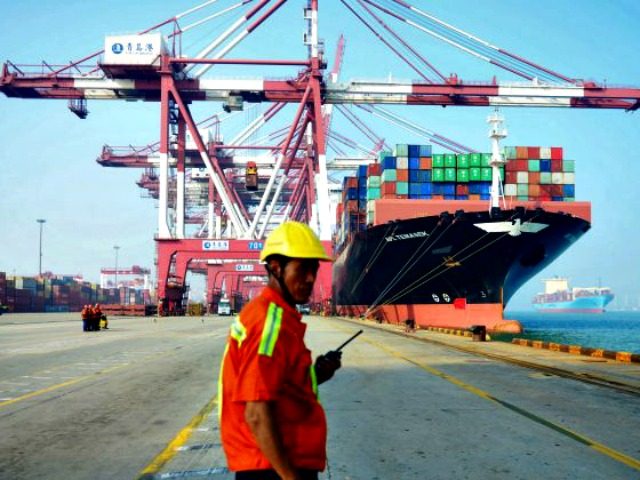 The US will impose 25 percent tariffs on $16 billion (€13.7 billion) worth of Chinese imports, in addition to the tariffs already in place, the Trump administration announced on Tuesday.
The tranche of 25 per cent tariffs - which covers 279 products including electronic parts, plastics, chemicals, batteries, tractors and railway cars - follows $US34 billion worth of tariffs announced by the U.S. government in July.
The Semiconductor Industry Association said in a statement that tariffs imposed on semiconductors imported from China will hurt American chipmakers rather than Chinese firms.
The US has said the tariffs are meant to penalise China for "unfair" trade practices, such as rules that compel companies in certain sectors to take on local partners if they want to do business in the country.
Year-on-year, the growth of China's exports to the USA slowed to 11 percent last month from 12.5 percent in June, while import growth accelerated to 11 percent from 9 percent.
The 279 items that will be hit with tariffs at the end of August are mostly industrial goods such as tractors, plastic tubes, and measurement equipment like speedometers.
Economists say China appears to be taking a more hands-off approach to the yuan, which marked its worst 4-month fall on record between April and July and has provided some reprieve for exporters in the face of the rising trade tensions. Washington has long criticised China's trade surplus with the United States and has demanded Beijing cut it.
China has repeatedly warned it will strike back against any further punitive measures by Trump, saying the United States is threatening the global free trade order with its protectionism.
More news: Russian Federation helicopter crash: Horror smash 'kills 18 with no survivors' in Siberia
More news: Sharjah Baby-Friendly Office marks Breastfeeding Week
More news: Trump Touts Iran Sanctions
A first tranche of tariffs, on $34bn worth of goods, went into effect in July.
May 19: After a meeting, the two countriesannounce the outline of a trade dealto avoid the tariffs.
April 4: China rolls out a listof more than 100 U.S. goods worth roughly $50 billion that are subject to retaliatory tariffs.
July 10: TheUS releases an initial listof an additional $200 billion worth of Chinese goods that could be subject to a 10% tariff.
Announcing the new duties, the US Trade Representatives Office: "China directs and unfairly facilitates the systematic investment in, and acquisition of, US companies and assets to generate large-scale technology transfer".
A spokesman for the commerce ministry described the latest round of USA tariffs as "very unreasonable".
They appear far from a resolution. and according to USA local news outlets, the USTR is reviewing the 10 percent tariffs on a further 200-billion US dollars of Chinese imports...and is considering raising the rate to 25 percent.