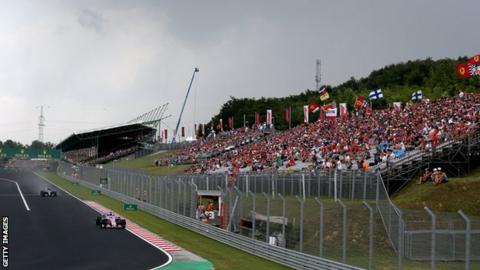 Force India entered administration on Friday night after its driver Sergio Perez brought legal action against the team with the support of engine supplier Mercedes and main sponsor BWT.
"I should not really like to be involved in this because at the end of the day I'm just a driver, but it got too much, and I was asked by a couple of members of the team to go ahead and save the team", he said.
The team, owned by Vijay Mallya, was listed for a Companies Court winding-up hearing at London's High Court on Wednesday this week.
Szafnauer said: "I think it's imminent".
And he explained exactly why he did that during the Hungarian Grand Prix. But one of the creditors had already prepared a petition, and if it was filed, the team would simply be closed.
On the track at the Hungaroring, Force India endured their worst qualifying session of the season in a changeable wet conditions and Perez and team-mate Esteban Ocon will line up in 19th and 18th positions respectively for Sunday's race which begins at 2.10pm.
"The team will continue to operate as normal, including racing in Hungary this weekend", joint administrator Geoff Rowley said in a statement.
More news: Samsung Galaxy Note 9 Price Leaked Courtesy of Promotional Posters
More news: Facebook Uncovers Fake Accounts Ahead of Midterm Elections
More news: Why Prince Harry and Meghan Markle Are Disregarding These Royal Rules
"That's why I was asked to pull the trigger", Perez said.
"It has nothing to do with my outstanding amounts".
However, an ownership change requires the approval of all other teams in order to be eligible for the television prize money.
"The last month or so has been extremely tough for me, with the situation our team was in, and I ended up in the middle", he told reporters. There's discussions going on in the background and I am not privy to those because it is a shareholder issue...
There's a shared concern that Force India is being lined up by Mercedes boss Toto Wolff to become a pukka B-team, and that will only increase the power base of the sport's two major manufacturers. This would result in the immediate stopping of all activities, while the team would have to sell of its assets to pay off the creditors. "But it will be very soon".
"[But] we have to recognise Vijay's effort the last 10 years, we shouldn't forget that".