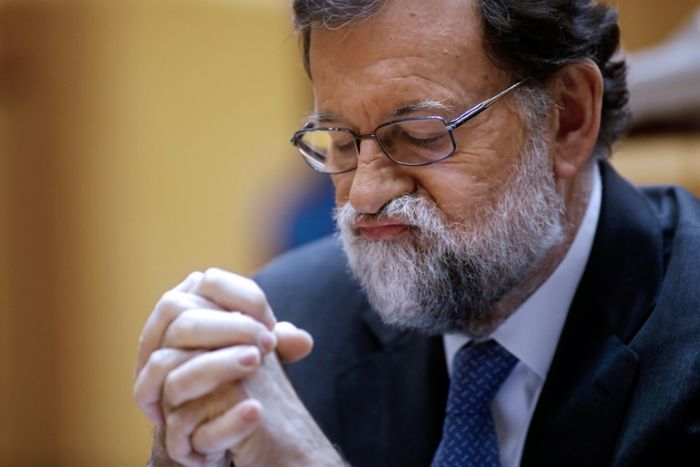 Spain's Socialist chief Pedro Sanchez was sworn in as Prime Minister yesterday, a day after ousting Mariano Rajoy in a historic no-confidence vote sparked by fury over graft woes afflicting the conservative leader's party.
Sanchez was sworn in by King Felipe VI at the royal residence at the Palacio de a Zarzuela on Saturday morning.
Pedro Sanchez won the no-confidence motion with 180 votes in favor, 169 against and one abstention, according to the Associated Press.
As Spain's new prime minister, whose party only has a quarter of the seats in parliament, Sanchez now has to decide who to include in his cabinet.
Mr Sanchez toppled Mr Rajoy following a court ruling in a major corruption case involving the conservative leader's Partido Popular.
Sanchez, leader of the Spanish Socialist Workers' Party, becomes Spain's seventh Prime Minister since its return to democracy in the late 1970s, following the dictatorship of Francisco Franco.
Besides inheriting Spain's worst political crisis in almost four decades, Sanchez's government will depend on the support of the far-left Podemos (We Can) party and of a motley crew of regional parties and Catalan secessionists to get anything done in the federal government.
Rajoy is said to have been present at the ceremony.
More news: French Open 2018: Serena Williams battles past Ashleigh Barty
More news: FIFA holds last-minute meeting with 2026 World Cup bidders
More news: With Tweet about jobs numbers, Trump breaks yet another taboo
Mr Sanchez has pledged to open talks with the separatist leader of north-eastern Catalonia, but opposes any independence referendum.
Catalan President Quim Torra, center, poses with the members of the new government after the swearing in ceremony celebrated at the Palau Generalitat in Barcelona, Spain, Saturday.
Mr Torra said: "This government is committed to moving towards an independent state in the form of a republic".
Sanchez had been Rajoy's most loyal backer of a government takeover of Catalonia's regional affairs following an illegal - and unsuccessful - declaration of independence by the region's parliament in October.
All of his allies in the no-confidence motion stressed their vote against Rajoy was not a blank cheque for Sanchez.
In his first comments after winning the no-confidence motion, Mr Sanchez, a former basketball player, vowed to tackle "all the challenges which the country faces with humility".
Mr Sanchez will only be able to implement policy initiatives "that allow him to obtain an easy majority" in Parliament, said Professor Fernando Vallespin at the Autonomous University of Madrid.
Mr Sanchez became prime minister with only 84 seats in the 350-member assembly thanks to support from the hard-left Podemos and smaller nationalist parties.