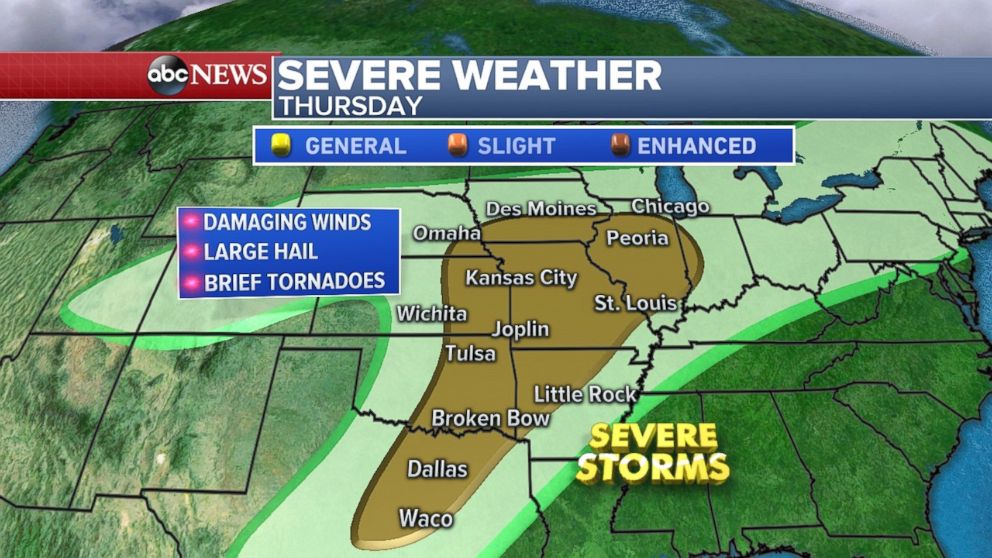 We've got a quiet forecast heading into the weekend, but all of the ingredients are coming together for a possible severe weather outbreak next week. The highest threat for severe storms will be along and south of Interstate 80. Large hail, damaging winds, and tornadoes are all in play with any storms that develop.
Ahead of the anticipated storms, agencies tweeted safety information.
"This is kind of our first severe weather event of the year, so it's definitely time to review those (severe weather) plans and make sure you of ways of receiving warnings", Laflin said.
Locations just outside the enhanced-risk swath are under a marginal to slight risk for severe weather.
These storms are expected to form into lines and clusters Wednesday evening and may move into Central Illinois Wednesday night. An isolated tornado though can't be ruled out. Our weather Friday through the weekend now appears pleasant and dry with morning lows in the 50s and afternoon highs in the lower 80s.
A warm and humid Wednesday is expected.
More news: Oculus Go now available, standalone mobile VR for £199
More news: Google Doodle celebrates International Workers' Day 2018
More news: Windy and warm Tuesday
Damaging winds, large hail and strong tornadoes will be likely.
Lingering storms will exit early Wednesday morning leaving us with partly cloudy skies.
The threat of severe weather shifts farther to the east by Thursday. The NWS forecast for Stillwater cites a 60-percent chance of thunderstorms Wednesday night with wind gusts as high as 29 miles per hour, giving way to a 40-percent chance Thursday and wind gusts reaching 31 miles per hour.
Rainfall totals will likely be between 1-2 inches and higher totals within thunderstorms which will be nice with how dry it has been lately.
Thursday a cold front approaches so thunderstorms at least scattered will develop.