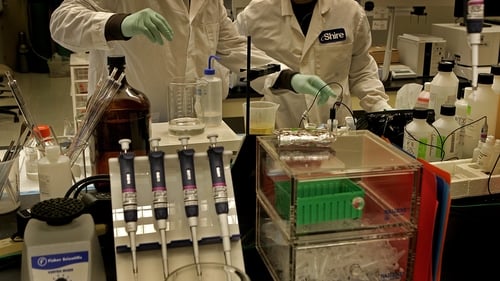 Shire, for whom the boss of Japanese drug maker Takeda is reportedly readying a £35bn bid, has agreed to sell its oncology business to Servier for $2.4bn in cash.
Shire was at pains to point out that it started exploring the sale of oncology in December and commenced the disposal process in January, during which it identified multiple possible U.S., European and Japanese buyers.
Citing anonymous sources, Bloomberg News reported earlier this month that Takeda had approached Sumitomo Mitsui Financial Group and Mitsubishi UFJ Financial Group, among other lenders, about financing the proposed acquisition. Under UK takeover rules, Takeda has until April 25 to announce whether or not it will bid for Shire, which has a market value of around $47bn. They might be returned to shareholders in the form of a share buyback, Shire says, when the Takeda offer period is over. Shire also had debt of around $19 billion as of the end of 2017.
The deal with Servier, which is headquartered in France, is expected to close in the second or third quarter of this year.
Shire itself also has a track record of acquisitions, but its biggest ever deal - the $32 billion purchase of Baxalta (Xetra: 9BX.DE - news) in 2016 - was widely criticised by shareholders.
Oncaspar is a component of multi-agent treatment for acute lymphoblastic leukemia, while Onivyde is a component of multi-agent treatment for metastatic pancreatic cancer post gemcitabine based therapy.
More news: HBO's John Oliver Says GOP 'Absolutely Blew It' on Corporate Tax Reform
More news: Woolworths hit by nationwide technical outage
More news: Armenians protest leader's plan to stay in power as prime minister
In a prepared statement, Shire CEO Flemming Ornskov said that though the cancer business-which includes two marketed drugs-was profitable, the company concluded it is not core to Shire's long-term strategy.
Previous year the Oncology business created revenues of $262 million.
"We see the possible strategic fit given the company's focus therapeutic areas of oncology, gastrointestinal and neuroscience, with Shire bolstering the latter two franchises", Jefferies analyst Peter Welford wrote in reference to Takeda in an April 16 note.
Meanwhile, Servier group president Olivier Laureau said the acquisition will enable the company to "meet its strategic ambitions to become a global key player in oncology", in particular by helping it establish a direct commercial presence in the US.
Servier believes that the acquisition will help the firm to establish direct commercial presence in the USA, in addition to expanding its oncology pipeline and portfolio of in-market drugs.