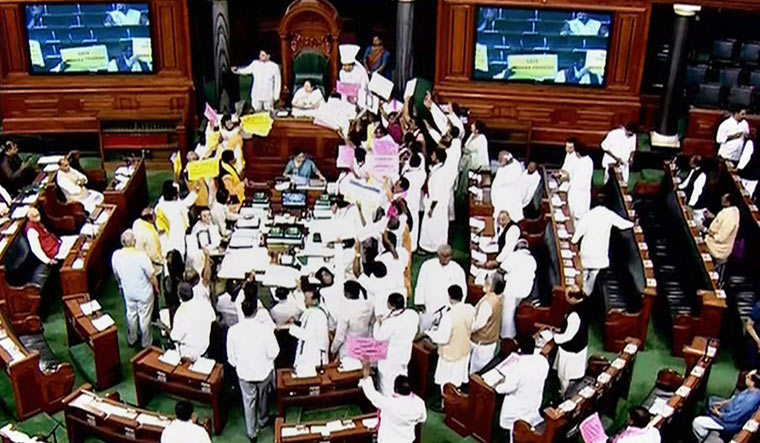 The Lok Sabha was adjourned for the day Monday amid continuing protests by regional parties over various issues.
The BJP hit out at Congress leadership for the pandemonium, saying they don't have democracy in their genes while the opposition party accused the Narendra Modi government of killing democracy by orchestrating protests to avoid discussion on Nirav Modi and Punjab National Bank (PNB) fraud.
The Speaker hardly called for taking up of listed questions, members from Andhra Pradesh belonging to Telugu Desam Party (TDP) and YSR Congress Party entered into the well carrying placards demanding Special Category status for Andhra Pradesh.
The lower house was adjourned till noon.
Both the Houses have failed to function since the second leg of Budget Session began on March 5.
More news: AAP, Cong bury hatchet to stop sealings
More news: Bengals are trading for Cordy Glenn
More news: What To Watch For: Timberwolves vs. Warriors
As soon as the House met in the afternoon, some members came near the Chair's podium holding placards.
Though the House resumed functioning after an hour the proceedings were stalled again by the protesting members forcing the Speaker to adjourn the House for the day and will resume on Wednesday. Post that, The Rajya Sabha was also adjourned for the day amidst these ruckuses on minutes after it reassembled at 2 PM without transacting any business.
"This shows government arrogance and unilateral move to bulldoze all the financial business without discussing them on the floor of the House", leaders of the Congress, CPM, NCP, RJD, RSP and National Conference said in a letter to the speaker.
The scenes were no different in Rajya Sabha.
"It is the game-plan of the BJP to pass the Budget and demands for grants without discussion and it is being supported by its allies and some potential allies", CPM leader Mohammed Salim told reporters, when asked about the absence of a TMC representation in the memorandum. "Even the Prime Minister has remained silent", he said and added the government is defaming the opposition by blaming them for adjournments.