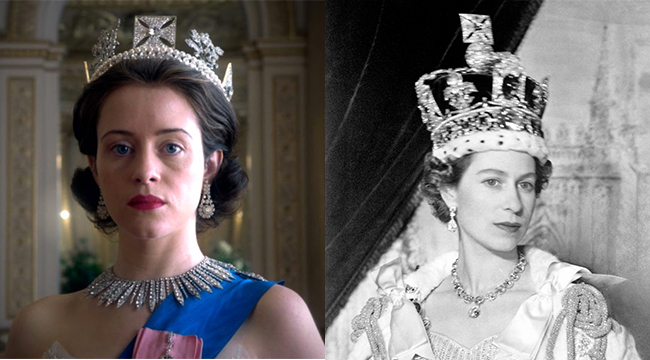 The Netflix series traces Elizabeth's journey from princess to queen and through the early years of her reign, beginning in the 1950s.
Claire Foy who has played Queen Elizabeth II during the first two series of the show has been paid less for her work than co-star Matt Smith who played her onscreen husband, Prince Phillip the Duke of Edinburgh.
The confirmed but figureless pay gap was revealed by show producers Suzanne Mackie and Andy Harries during a discussion about "The Crown" at the INTV Conference in Jerusalem, In Style magazine reported.
Smith, 35, was not nominated for a major award for his role.
Despite the fact that Claire played the lead and won a Golden Globe for her performance, she was paid less than her male co-star - due to Matt Smith's Dr Who fame.
Filming for season three of The Crown will begin in July, with Olivia Colman, Helena Bonham Carter scoring roles as the royal sisters.
This will come as a huge shock for fans of the show as Foy has been nominated for and won countless roles for her incredible acting as the Queen. For Season 3, the queen, Prince Philip and everyone else are older, requiring older actors.
More news: Trump eyes ex-Microsoft staffer as top economic aide
More news: Miley Cyrus Is Being Sued For Allegedly Lifting 'We Can't Stop' Lyrics
More news: Wozniacki loses in Indian Wells, Halep advances
If we base actors' salaries on their past roles, rather than the demands of their current ones, men will still, invariably, come up trumps.
Representatives for Foy and Smith did not return requests for comment on Tuesday.
At a cost of $7 million per episode, The Crown is one of the most expensive TV series ever made.
Forbes's annual highest-paid list draws further attention to the gender pay gap.
"The Crown" chronicles Queen Elizabeth II's accession to the present day.
In January, there was controversy after reports surfaced that Michelle Williams received less than 1% of Mark Wahlberg's paycheck for reshoots on their film, "All the Money in the World".