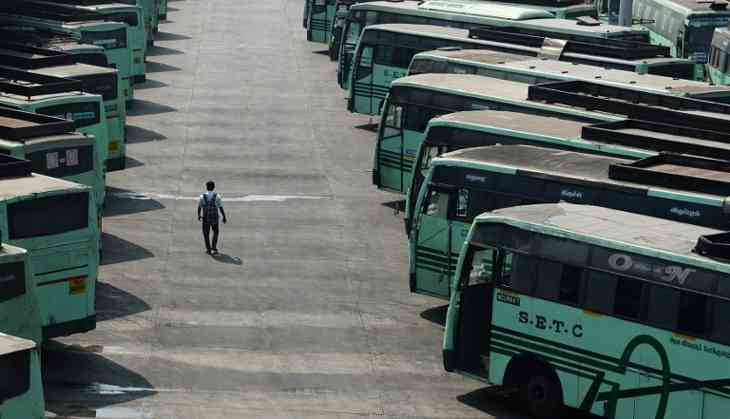 On January 4, an indefinite strike was called by transport unions, demanding a pay hike among other things, following the failure of talks on wage revision and clearance of pending dues with Tamil Nadu Transport Minister M.R. Vijayabaskar. But, the standoff between the government and the workers remained unresolved with trade unions refusing to withdraw their strike unless the settlement signed by the government with "minority unions" accepting 2.44% wage hike is kept in abeyance.
The Chief Minister stated that numerous demands made by the workers have been met and they should end their strike.
-Immediately release terminal benefits of retired transport employees which are kept pending for more than 15 years.
Meanwhile, the Madras High Court on Thursday appointed an arbitrator to settle the wage dispute with the government.
The bench noted that government agreed to three of five demands by the unions, subject to employees resuming work from this evening.
More news: Stephane Peterhansel stays top after eventful Dakar fourth stage
More news: Drunken Russian man commandeers armored vehicle, crashes it
More news: Cabinet reshuffle: Theresa May's show of strength - or limitations?
The Tamil Nadu government had hired temporary drivers to run buses over the last eight days.
When the Bill hiking the salary for MLAs from Rs 55,000 to Rs 1.
"People will laugh at us for this hike when transport workers in the state are on strike demanding salary hike", said DMK working president MK Stalin. The strike has affected the passengers across the state.
While Chief Minister reiterated the government's willingness to increase wages by 2.44 times, the trade unions have refused to concede and have lambasted the government for the MLA salary hike bill.
"The Tamil Nadu government continues to be insensitive towards the workers' demands. Postponed", he said and lauded the workers for their unity and discipline shown during this period.