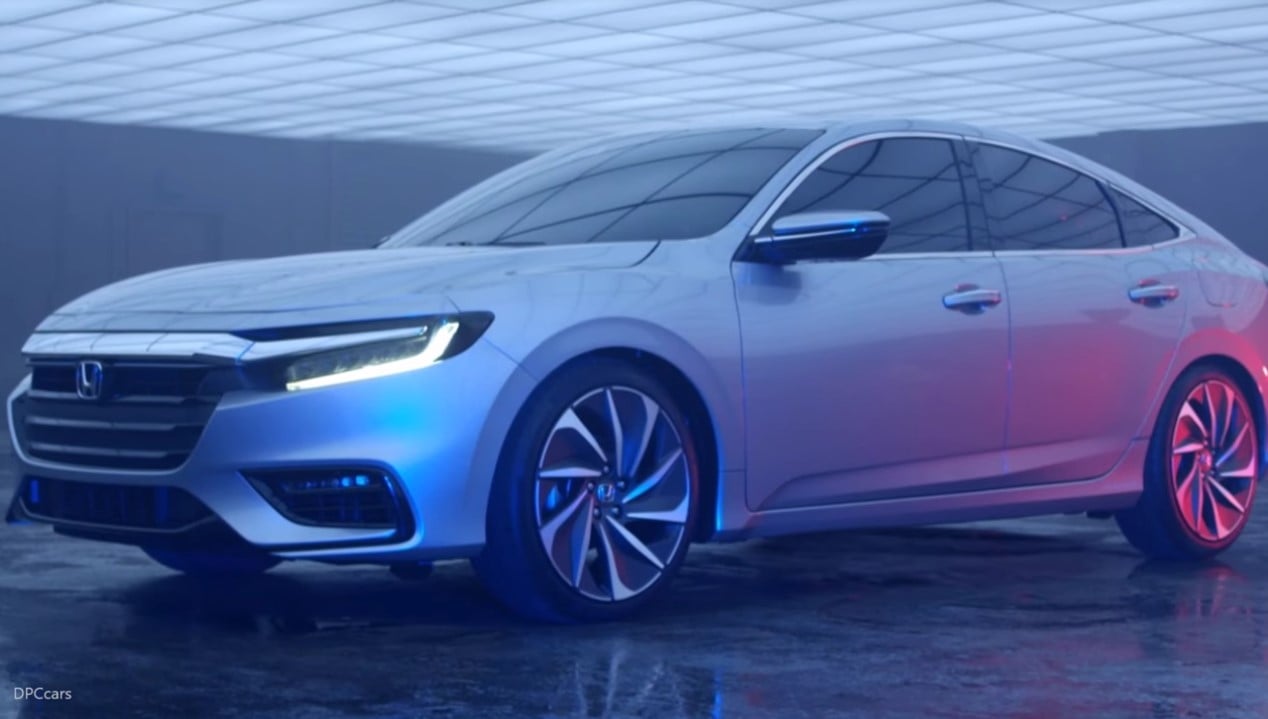 The 2018 Honda Insight has been revealed in prototype form ahead of its official unveiling at the Detroit motor show. Launching nationwide later this year, and positioned as a premium compact above Civic in the Honda passenger auto lineup, Insight elevates itself above other compact hybrid models with its sleek sedan design, roomy five-passenger cabin, and refined driving performance, along with high fuel efficiency. New on the 2019 Insight will be Traffic Sign Recognition. That'll include optional leather, an 8-inch touchscreen infotainment system, and a 7-inch digital display for the driver's instrumentation. Honda says the Insight will feature a long wheelbase to offer class-leading passenger space, so there should be plenty of room to bring friends and family along for the ride. The second-gen Insight that debuted in 2009 was a five-passenger hatchback with a raised, elongated tail that made it hard to distinguish from the Toyota Prius.
It's EPA estimated fuel economy will be in excess of 50 mpg, according to Honda, and the two-motor hybrid system will feature a 1.5-liter Atkinson cycle engine and lithium-ion battery pack.
The system has some big advantages over earlier hybrids. The hybrid batteries located under the rear seats provides for a full-size trunk with the flexibility of available 60/40 split and folding rear seats.
More news: Republicans predict paychecks will grow as IRS issues new tax withholding guidelines
More news: YouTube Limits Relationship With Logan Paul After His Video Depicting Dead Body
More news: Researchers uncover major security flaws affecting most devices
Like its predecessors, the 2019 Honda Insight will be a petrol/electric hybrid, but this time it's being introduced when hybrid powertrains are actually becoming popular. Honda's target is for the auto to achieve a 50 mpg combined fuel economy rating when it's rated by America's Environmental Protection Agency (EPA).
The 2019 Insight will be manufactured at Honda's Greensburg, Indiana plant, alongside the Civic and CR-V. Most of the time, Honda says, the Insight will use the electric motor alone, relying on power from the batteries or, if they're depleted, starting up the gas engine to act as a mobile generator.
On EX and higher trims, the Insight will come standard with the Honda Sensing group of safety technologies, including adaptive cruise control with low-speed following capability, forward collision warning with automatic emergency braking, lane departure warning, Road Departure Mitigation (which helps keep the vehicle on the road), and traffic sign recognition capability.