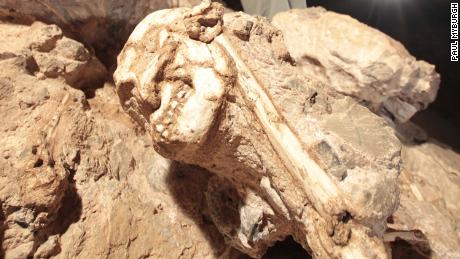 One of the oldest and most complete skeletons of humankind's ancestors has been unveiled in South Africa.
After 20 years of careful excavation, paleontologists are finally ready to present the world's most complete Australopithecus fossil found to date. The recent unveiling of a complete hominid skeleton dating back 3.67 million years is set to increase our understanding of the events that led up to humanity as we know it, and gives us a peek at what life was like before we were around.
Professor Clarke, from the Evolutionary Studies Institute at the University of Witwatersrand, Johannesburg, said: "This is one of the most remarkable fossil discoveries made in the history of human origins research and it is a privilege to unveil a finding of this importance today".
Researchers say it has taken them 20 years to excavate, clean, reconstruct and analyse the delicate skeleton.
The skeleton is nicknamed as "Little Foot" and was found in the Sterkfontein Caves, situated almost 25 miles northwest of Johannesburg, where little bones were found when miners blasted the rock. A report by the BBC states that this would make Little Foot half a million years older than Lucy, the other famous ancient skeleton.
Both Little Foot and Lucy belong to the same genus - Australopithecus - but they are different species.
More news: White House downplays Trump's slurred speech
More news: Analysts See $3.92 EPS for Broadcom Limited (AVGO)
More news: Anadarko Petroleum Corporation (APC) Shares Sold by Carret Asset Management LLC
"Many of the bones of the skeleton are fragile, yet they were all deeply embedded in a concrete-like rock called breccia", Clarke said.
Professor Ron Clarke taking a closer look at Little Foot. Clarke sent his assistants Stephen Motsumi and Nkwane Molefe into the deep underground cave to search for any possible broken bone surface that might fit with the bones he had discovered in boxes.
The location of the skeleton indicates that hominins flourished further across Africa than researchers had previously believed. Among its many initiatives aimed at uplifting the origin sciences across Africa, PAST has been a major funder of research at Sterkfontein for over two decades.
The university is proud of the assembly, saying it's a chance for scientists to better understand evolution.
Robert Blumenschine, who is the chief scientist at the Paleontological Scientific Trust that funded the excavation, said the discovery is a source of pride for Africans.
By placing the fossils at well over 3 million years old, Clarke is bound to reignite a debate about the age of the find, which has been disputed over the years.