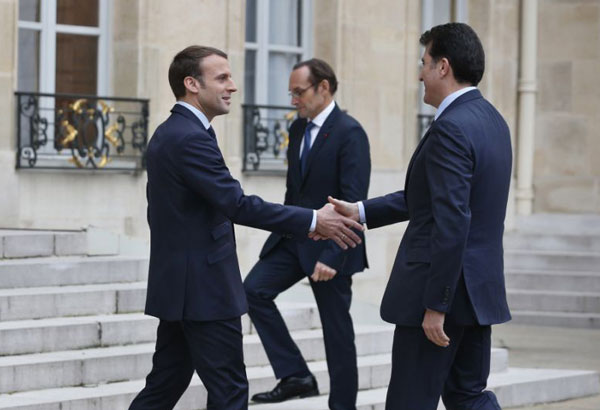 French President Emmanuel Macron on Saturday called on Iraq to dismantle all militias, including the Popular Mobilization Forces, reported Reuters.
Speaking at a joint news conference with Barzani and KRG Vice-PM Qubad Talabani in Paris, Macron said France backed a constitutional and unified Iraq and called for national and constructive dialogue which must include respect for all articles of the Iraqi constitution.
The government of Iraqi Prime Minister Haider al-Abadi has denied that the PMF, which its supports, is engaged in abuses.
He also called for "a gradual demilitarisation, in particular of the "Popular Mobilisation" that has taken place in the last few years, and that all militias be gradually dismantled".
Macron said France would "do everything in the coming weeks and months, not just to make sure this dialogue starts, but to ensure that it is successful and that it permits the integrity of Iraq and stability inside Iraq".
More news: Controversial rapist Brock Turner seeks to overturn conviction
More news: Celgene Corporation (CELG) Shares Sold by Investec Asset Management North America Inc
More news: Florida State coaching search: Odds for 10 candidates to replace Jimbo Fisher
Bringing together a dizzying array of paramilitary groups under the command of Iraq's prime minister, the Hashed has since played a key role in battles against IS and more recently against Kurdish forces.
"These positions from France are absolutely rejected and harm Iraq's sovereignty and its institutions", Maliki said.
Tensions have risen between the KRG and Baghdad after Iraqi Kurds on September 25 held an independence referendum, which Iraqi leaders called illegal. "As the Kurdistan Regional Government we are prepared to resolve issues with Baghdad with the framework of the constitution", he added.
US Secretary of State Rex Tillerson and British Prime Minister Theresa May have both made trips to Iraq after the referendum but only met officials in Baghdad and made no visits to the KRG capital Erbil. Kurds voted overwhelmingly to break away from Iraq in the referendum, defying the central government, which responded by seizing the oil rich city of Kirkuk and other disputed territory.