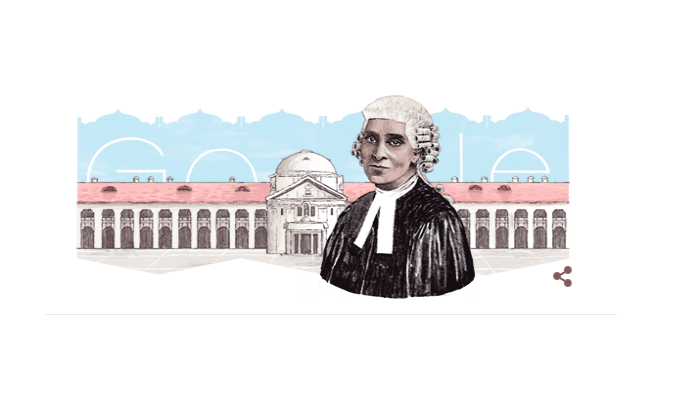 Google on Wednesday honored Cornelia Sorabji, India's first woman lawyer, on her 151st birth anniversary with a doodle.
Sorabji, born in Maharashtra's Nashik in 1866 is also recognised as the first woman graduate of Bombay University, the first woman to study law at Oxford University and first Indian national to study at any British University and first female advocate in India. She could have achieved further heights if not for the regressive norms of Indian society. According to Sorabji, she was denied the scholarship, and instead took up a temporary position as a professor of English at a men's college in Gujarat. Sorabji was the first woman to practice law in India.
Upon returning to India in 1894, she plunged into social service and legal advisory work, especially for "purda-nashin" women from wealthy or royal families, who had no means to defend their wealth and properties, but Sorabji secured special permission to file pleas on their behalf, yet could not represent them in the courts. "So she invented her own desired job description, and obtained the role she wanted of adviser to the government of India on women in purdah".
She took up law as her career at a time when women were not even allowed in the profession.
More news: Kim Kardashian West confirms sex of baby
More news: 49ers receiver Marquise Goodwin hopes heartbreak of losing son can help others
More news: New Razer BlackWidow Ultimate Is Water- And Dust-Proof
Sorabji was also the first woman to graduate from Bombay University. So, in 1888, she asked the National Indian Association for help in completing her education. In 1904, she was appointed Lady Assistant to the Court of Wards of Bengal and by 1907, due to the need for such representation; Sorabji was working in the provinces of Bengal, Bihar, Orissa, and Assam. Over the next 20 years, Cornelia is reported to have helped over 600 women and orphans fight legal battles, sometimes free of charge. It was then that she started practicing in Calcutta.
Six years later, she retired and moved to London.
Between 1900-1930s, she wrote around a dozen books including two autobiographical works; traveled extensively in India and the U.S.; helped her mother to found several girls' schools in and around Poona and penned articles for various Indian and British periodicals. She was not recognized as an advocate in the Allahabad High Court even after passing the exams for it, until 1923, when the laws finally changed.
Like today, on November 15, for example, Google is honouring Cornelia Sorabji with a doodle.