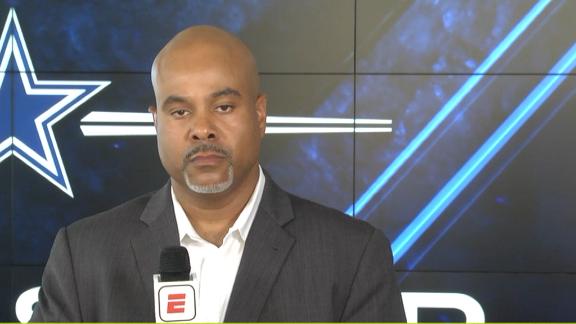 Sports, politics and perceptions of patriotism collided once again when President Trump tweeted early Tuesday about ESPN's SportsCenter host Jemele Hill, suggesting she is the reason for the network's poor ratings.
Following the President & Vice President's public objection, Jerry Jones finally voiced his opinion on whether or not he approves of his players' kneeling during the national anthem. Jones made the remarks after the Cowboys lost to the Green Bay Packers 35-31.
Trump also went after what the National Football League pays in taxes, tweeting, "Why is the National Football League getting massive tax breaks while at the same time disrespecting our Anthem, Flag and Country?" Jones said after the game that it was a statement about "unity" and "equality".
We as a team are very much on the page together, players and coaches will "under no circumstances" fail to "stand and recognize and honor the flag".
More news: Annaly Capital Management Inc (NYSE:NLY) 2017 Q2 Institutional Investor Sentiment Steady
More news: Overwatch's Halloween Event Underway, Full-Length Trailer Released
More news: Hrithik Roshan - Doesn't Wish to Make a Spectacle
Trump is upset that some players have kneeled during the national anthem to protest racial inequality and police mistreatment of black males. I don't want there to be any misunderstanding as to where I want the personnel of the Cowboys to be when we're at the No. 1 workplace we have, which is the field and the sideline on gameday. As to whether or not I will basically institute or do what I said I would just say.
Jones's comments came after being asked about Vice President Mike Pence, who left the Indianapolis Colts-San Francisco 49ers game on Sunday when more than 20 players from the 49ers knelt during the national anthem. But he said respect for the flag is more important than any issues regarding team unity. Whether those outcomes are positive or negative, only time will tell. "There are bodies in the street and people getting paid leave and getting away with murder".
The Cowboys are one of only six teams not to have had a player sit, kneel or raise a fist during the Star Spangled Banner over the past two years, according to the Dallas Morning News.